One day during a cold stretch in January 2017, I did my laundry with Laura Bilotta of Single in the City and Mary Bratko of Wedding Girl blog. On that freezing cold morning we three bloggers validated some Christmas gift certificates and each got $100 worth of complimentary eco friendly dry cleaning. I mean literally, that's the name of the business…
Below is a photo of the exterior of Eco Friendly Dry Cleaning in Oakville which is the same picture Laura used in her Single in the City blog post entitled Eco Friendly Green Singles, which was and remains one of the most popular posts on her entire blog.

Eco Friendly Dry Cleaning 3052 Preserve Drive in Oakville
Laura was writing green themes and wondered in print if dating sites could let users filter members based on mutual interests could engender green dating and let single people shop for green partners.
I arranged the gift certificates from Mark Williston, the proprietor whom you can see in the featured image of this post. He was difficult to photograph, being notoriously camera shy, but i did get that snap of him behind the counter beside Laura, and someone, I don't remember who got this candid shot of me, below.
It was right about that time Mary was working on a piece of content for her blog advocating for truth in marketing specifically relating to how wedding planner's sell green weddings. She wrote on how her profession could create and measure Real Green Weddings and so create a green scale by which wedding events can be measured fairly for consumers, in advance of the big day.
Her thoughts on what makes real green weddings and the images she snapped that day created a riveting story that even Greenmoxie Nikki Fotheringham herself retweeted (my) twitter blast promoting Mary's green weddings post. Oh it was a heady time in a nice smelling shop on a cold winter morning getting our laundry done.
We learned a lot about dry cleaning…
Together we all learned that the word 'dry' in dry cleaning means fabrics are cleaned with a purifying liquid other than water, which in most cases is a man-made (and very toxic) substance called Perchloroethylene or PCE. This is a volatile organic compound (VOC) that contributes greatly to smog in cities.
FYI – Perchloroethylene is primarily used for dry cleaning fabrics but also for degreasing metals.  Sure, technically speaking its an organic chemical, but of course it does not occur in nature and so environmentalists label it a pollutant and point to how often its inadvertently introduced into the environment by human activity.
GreenCleaners by contrast uses silicon as the base ingredient, which as you know is also the primary component in the white beach sand.  With liquid silicon its all about viscosity and lubricity as machines at GreenCleaners run this all-natural cleaning agent through the fibers of each garment. The result is a softer garment and cleaner, better smelling attire.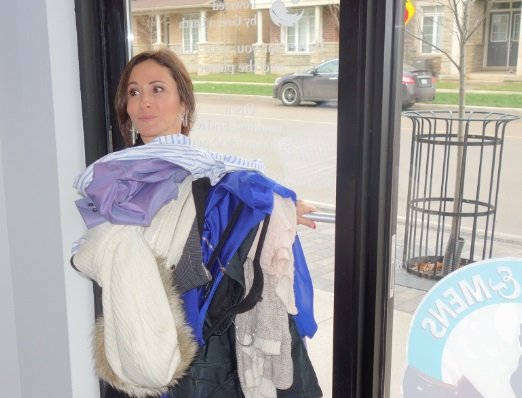 Eco friendly dry cleaning uses the GreenEarth clothes cleaning system which is win for all consumers with no downsides really considering it costs about the same as regular cleaners, and does just as good or better job, and is easier on clothes.
This is a petroleum free solution and we were thrilled to learn that our clothes would not smell like photocopy fluid, and that they would feel better against our skin, fit better, look better, and last longer. Thank You Eco Friendly Dry Cleaning.
Save
Save
Save
Save
Save
Save
Save
Save
Save
Save
Save
Save
Save